22 July, 2022
Wow! She's a maturity wonder.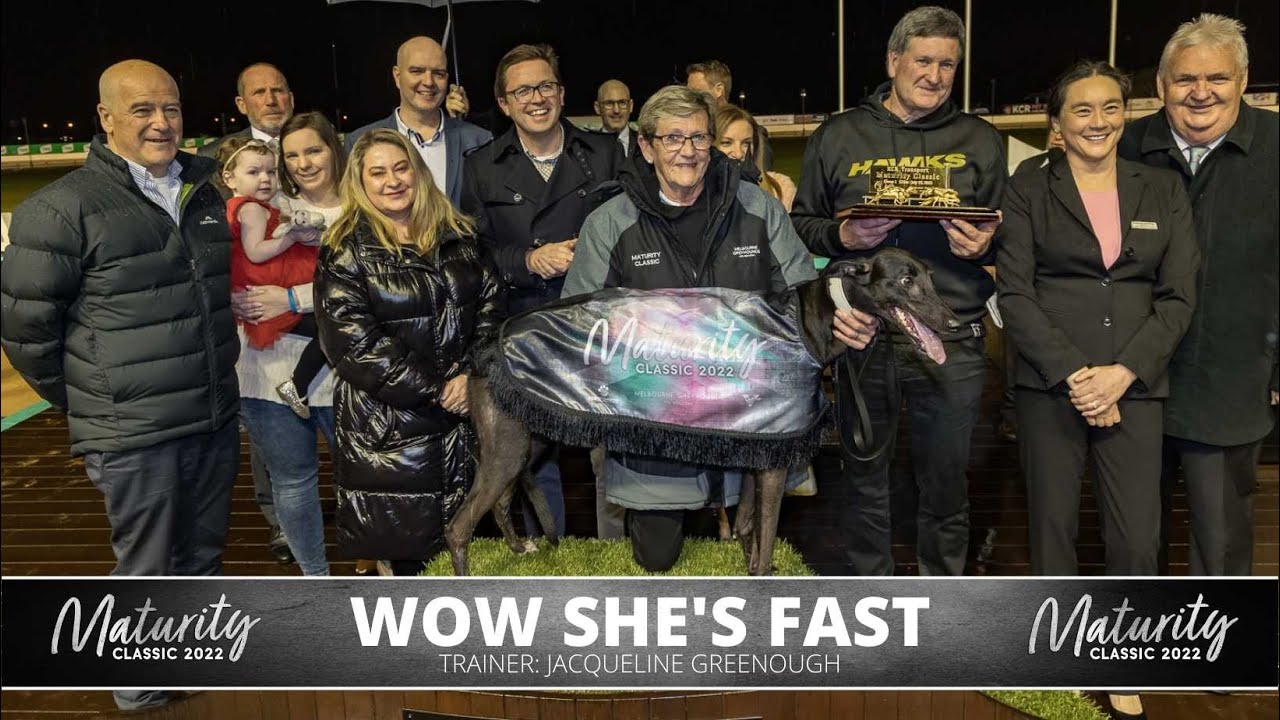 Wow Shes 'really' Fast
The aura of invincibility surrounding Wow She's Fast continued to grow on Saturday night when the Victorian superstar led all-the-way in the $149,875 Group 1 KCR Pet Transport Maturity Classic Final (525m) at The Meadows.
"It's pretty special," said Jackie Greenough, who trains Wow She's Fast in partnership with husband Kel.
"It's really special to have a dog like this. We've had good dogs over the years but she's one out of the box.
"When she finds the front like that, I really try to stop myself from thinking it's over, but I can't help it."
Perfectly drawn in Box 1, Wow She's Fast dominated betting on the Maturity, starting at the rarely seen Winx-like odds of $1.20 to join the legendary Brett Lee in 2001 as the shortest priced winner of the age-restricted feature.
Wow She's Fast was unbeaten in two previous appearances at The Meadows, setting the pace in the Maturity heats with a blistering 29.56sec performance, having also won the inaugural TAB Phoenix last December.
The daughter of triple G1 winner My Bro Fabio took advantage of the rails alley to lead throughout and while she may not have been as impressive on the clock as has become customary, the result was never in doubt.
Wow She's Fast defeated the gallant outsider Dusty Bourbski ($27.90) by one length in 29.84sec, with Kelsey Bale ($16.20) third.
"Wet night, rainy night, it makes it a bit tougher, but she got the job done, so that's the main thing," Kel Greenough offered.
"She's been great from the start, and we've all enjoyed her progress. It's pretty exciting to see dogs with back split ability like she has and we just hope she keeps doing it."
It was the aptly-named flyer's second G1 trophy.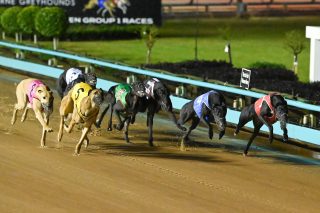 Wow She's Fast previously won the female-only Sapphire Crown at Sandown in May, while her trophy cabinet also includes the G3 Launching Pad, G3 Speed Star, and the Phoenix.
It was her 14th win from 19 starts, with the $100,000 winner's purse elevating the millionaire's prizemoney tally to an ever-spiralling $1,168,370 and into fifth place on the all-time Australian list.
Fanta Bale's national record of $1,365,175 appears certain to come under serious threat with a host of 'big money' targets looming large.
A much hyped Match Race against NSW sensation She's A Pearl and Kel Greenough's burning ambition of Melbourne Cup glory are all very much on the agenda.
"There are some nice races ahead, so hopefully we can knock over another one or two!" Kel Greenough said.