29 August, 2023
Saige Tennielle – 'Wonder of the West'!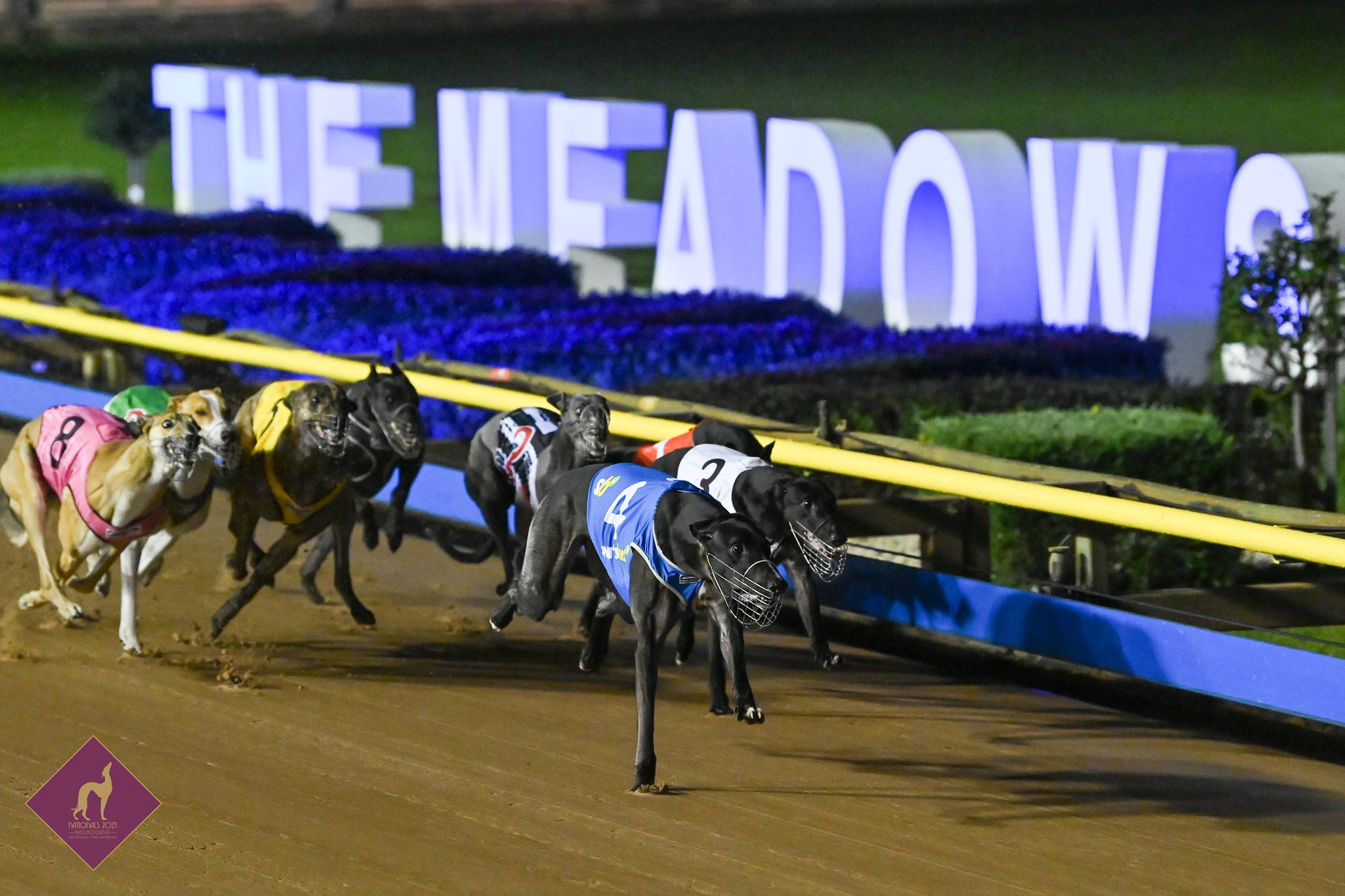 The 2023 Nationals made their way back 'The Meadows' as The Melbourne Greyhounds who again hosted another most memorable and exciting racing event.
2023 National Sprint  Championship
Emotions on the night were running high when West Australian sprint diva Saige Tenniele emerged from obscurity to claim the $136,750 Group 1 National Sprint Championship final (525m) at The Meadows on Saturday night.
Trained by Kody Charles, Saige Tenniele is named after his daughter and late sister.
"Very emotional, I'm lost for words, absolutely amazing," said Charles. "Tenniele was watching over us."
Saige Tenniele – a winner of nine races, including six of her past seven, from 29 starts – was at one stage advertised as a giveaway and is also believed to have been on a GAP waiting list.
But in one of the biggest turnarounds in the sport's history, Saige Tenniele (Apr '21 Bernardo x Abstract Miss) is now a national champion – and connections are $85,000 richer!
"I'm so proud of her… Just how far she's come," Charles added. "Bart Cummings once said, 'patience is the cheapest thing in racing'.
"It's our first Group 1, it's hard to believe and very surreal. I've got my beautiful wife here."
Charles also thanked the Thompson family, who had race favourite Postman Pat, for their support.
In the early stages, it looked like a Victorian trifecta was on the cards with reserve runner Aussie Rocks, Postman Pat and Tinker Norm battling for supremacy. But the race changed shape in the middle stages.
In a boilover, Saige Tenniele ($17.40) sprouted wings over the final stages to defeat Aussie Rocks ($11.00) by 0.5L, with Tinker Norm ($6.40) a further 0.3L away third in 29.95sec. Postman Pat ($1.40F) was a further 2.1L away fourth.
Saige Tenniele now has her name inscribed in the 'Nationals' annals as only the seventh 'Sandgroper' to snare a NSC – joining Mr. Toewhyte (1978), Fremantle Echo (1987), Sandi's Me Mum (1989 & 1990), Prince Of Tigers (1997), West On Augie (2018) and Premium Share (2019) – since the event's inception in 1965.
2023 National Distance Championship
Meanwhile, in the $136,750 G1 National Distance Championship final (730m), Victorian staying revelation Zoha Bale ($1.90F) finished a fast-finishing fourth, beaten 3.1L, after getting too far back early.
New South Wales landed the $85,000 first prize courtesy of Palawa King ($3.40), bred and trained by Raymond Smith, who proved too strong over the concluding stages for Tasmania's Fast Minardi($9.30), with Queenslander Days Of Thunder ($26.40) third in 42.70sec. (The margins were 2.7L x 0.2L.)
A 'GCA wild card', Palawa King (Jan '21 Feral Franky x Maximum Dos) notched up his 20th win (including six of his past seven) from 44 starts. He's now a dual G1 winner, having also taken out last month's G1 Queensland Cup (710m) at Albion Park.
"He's got a big heart… He deserves it," said trainer Ray 'Jack' Smith.
In reference 'on beating the Mexicans', he quipped: "Isn't it sweet. It's good to get one back on them."
2023 National Straight Track Championship – Healesville 
And, on a "Super Saturday" of national championships, Unleash Collinda proved once and for all he's Australia's 'straight track king' with a right royal display in the $44,875 Group 3 National Straight Track Championship (350m) on Saturday morning at Healesville.
In a Victorian quinella, Unleash Collinda ($2.80) led from go to whoa in defeating a gallant Maybe Yesterday ($2.20F) by 0.8L in a slick 18.90sec.
Champion trainer Jason Thompson has guided Unleash Collinda (Apr '20 Beast Unleashed x Audacious Bell) to an amazing 12 wins from 15 starts (80%) over 350m up the picturesque Yarra Valley venue.
It was Unleash Collinda's 33rd win from 51 starts and the $28,000 first prize lifted his earnings to $216,761.
Unleash Collinda is a dual track record holder at Healesville – 18.641sec (350m) and 16.057sec (300m).
He was also a finalist in last year's G2 Healesville Cup and G3 Capalaba Cup – also on a straight track.
But Unleash Collinda is more than adept on a 'circle' track, having finished runner-up in this year's G2 Shepparton Cup and G2 Ballarat Cup. He was also a finalist in the Listed Pink Diamond Champion Sprinter at Warragul in June.
ARTICLE by Peter Quilty, GRV