18 January, 2023
A change of leadership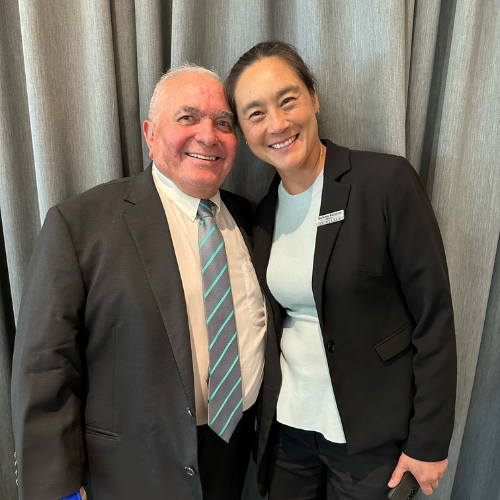 Say hello to Barb!
After over 20 years at the helm of the Melbourne Greyhound Racing Association, Eddie Caruana has stood down as Chair of the Club. Eddie advised MGRA Members of his decision at last night's Annual General Meeting held at The Meadows, noting that he will remain on the Board as a Director for the foreseeable future.
Eddie has overseen the establishment of The Meadows as one of the highest quality and innovative racing venues in the country, with a reputation for elite racing and first-class events. Eddie is renowned for his passion and dedication to the Club and the sport of greyhound racing in general.
"It has been an absolute privilege to lead the Melbourne Greyhound Racing Association over many years, and I am proud of the strong position that the Club is currently in. However, the time is right to hand over to the next generation to guide the Club into the future." Eddie said.
Following Eddie's announcement last night, the MGRA Board conducted the process to elect new office bearers, including the next Chair, and is pleased to announce the appointment of Dr Barbara Backhoy as the seventh Chairperson of the Melbourne Greyhound Racing Association.
An MGRA Director since 2018, Dr Backhoy graduated from the University of Queensland in 2001 with a Bachelor of Veterinary Science and started her career at Sandown Veterinary Clinic with Dr Jim Gannon and Dr Alistair Smith. With a passion for the welfare of racing greyhounds, Barbara has worked as an on-track greyhound veterinarian since 2002. She is also the owner of the Langwarrin Veterinary Clinic.
"I am honoured to be given the opportunity to lead one the strongest and most recognisable greyhound Clubs in the world. Eddie Caruana is a legend of the sport and his shoes will be extremely hard to fill, so I am grateful that he is remaining on the Board" Barbara said.
"The coming years will be an exciting period for the Club, and I look forward to working closely with my team at The Meadows and with Peita Duncan and Stuart Laing from Greyhound Racing Victoria to continue to build the Club into the future"
The MGRA Board for 2023 now comprises of Dr Barbara Backhoy (Chair), Terry Davis (Vice-Chair), Len Ketelaar, Edwin Caruana, John Hutchison, Troy Iwanyk and Mark Dooley.
For any enquiries, please contact MGRA Racing & Media Manager Corey Smith at csmith@grv.org.au or (03) 9355 5222.