27 February, 2023
Geall over the moon after Fernando Mick wins Australian Cup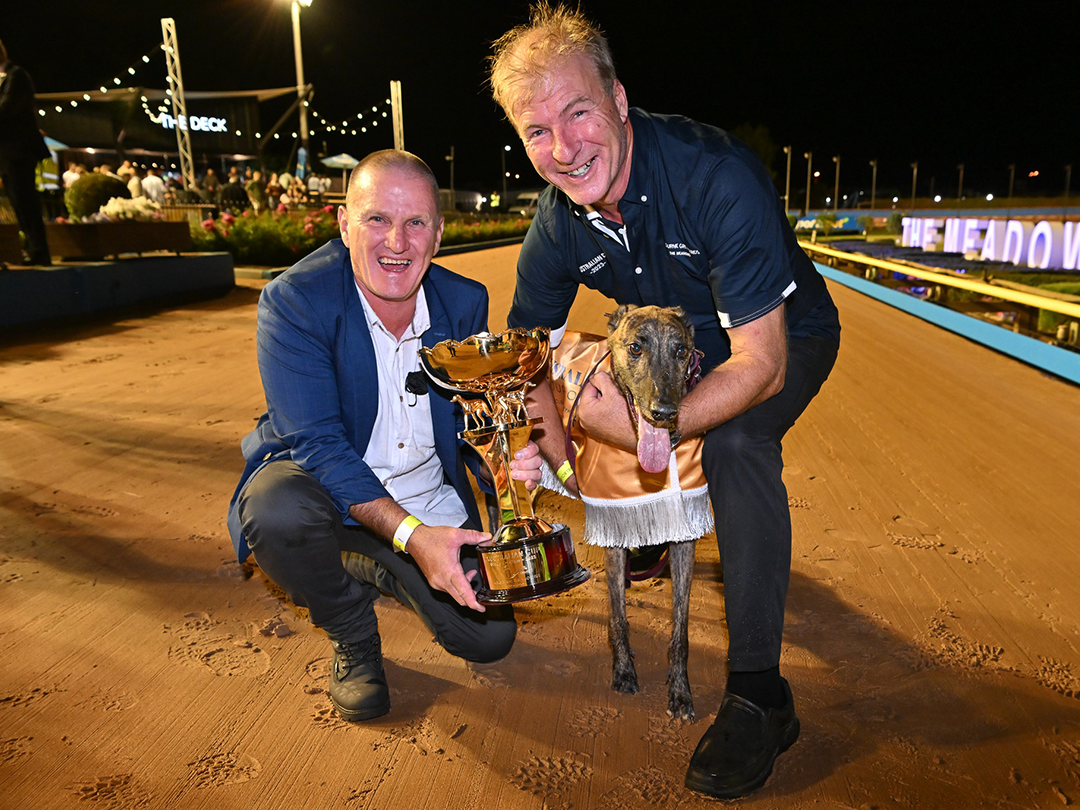 100th starts proves its weight in gold
David Geall was not short of reasons why his Australian Cup triumph with Fernando Mick ranks as highly as his two Melbourne Cup and Golden Easter Egg victories.
The veteran trainer was still on cloud nine when contacted by this publication on Sunday evening, after his four-year-old's remarkable win in the 525m feature worth $458,500 the night before.
That was when his chaser stunned greyhound racing fans, winning the final by 3 ½ lengths and crossing the line in 29.85 seconds at The Meadows.
The 29-year conditioner took out the 2018 Golden Easter Egg with Up Hill Jill, and My Redeemer saluted in that year's Melbourne Cup.
Blue blood Koblenz – by Fernando Bale and from Up Hill Jill – gave Geall his second Melbourne Cup in 2021.
But Saturday night's victory was just as good as those three other Group 1 "grand-slam" wins, if not better, for him and wife Rose.
A large reason is because Fernando Mick did it so comfortably as a four-year-old in his 101st career start.
"It's probably extra-special. The Golden Easter Egg, Melbourne Cup and Australian Cup – they're the three big grand-slam events," Geall told Australian Racing Greyhound.
"And now to have completed it because we've been fortunate to win the two Melbourne Cups and the Golden Easter Egg, it's so special.
"That's because it's the third leg of the three big ones. And you're happy in your greyhound life if you win one of them.
"You're done and dusted – that's it.
"Well now we've done three. it's so special because the dog has had so many starts and (owner) Paul Connell loves the greyhounds.
"It's been more special than I thought it would be."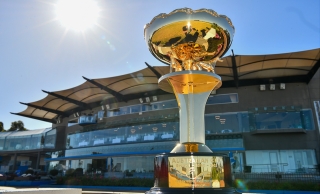 Fernando Mick – now with 35 wins and over $851,000 to his name – has a rare ability to excel from outside lanes.
He beat Silver Chief winner Amron Boy by 2 ¾ lengths in his heat from box eight, crossing the line in 29.80 seconds.
With $6.70 winning odds and the six lane, he backed up his exploits in the final.
"I realised then (after the heat) he handled the outside draw well. We did want box one or two – it would've really given us that chance to lead clearly to the first corner," Geall said.
"But as it was, he led clearly from box six. We gave him a chance because we knew it was red-hot.
"They were all very fast dogs, and we knew Baby Jaycee would put pressure on.
"We knew if Victa Damian got a sit somewhere close he was going to swoop.
"He's a very powerful dog. And there was Mortified from New South Wales.
"So we knew he had one chance – and that was to just ping."
There have certainly been no flukes to the four major Group 1 titles Geall has won as a trainer.
This was why he was still coming to terms with his latest elite-level triumph on the weekend.
"It's still sinking in. I think the further it goes each hour, you realise the enormity of it," he said.
"I've spoken to people in every state around Australia, and over in England as well.
"It's an enormous thrill for Rose and myself. It's just so special to win the Australian Cup with a dog who's had 101 starts.
"And the way he did it – to show that pace which a young two-year-old dog would.
"We choose to work in racing, and the hours that come with it."
Indeed, every other greyhound trainer in the industry could relate to the sacrifices Geall has made to be a champion Group 1 conditioner.
"There are an enormous amount of hours. We're trying to tick all the boxes and we've got fantastic staff part-time," he said.
"My brother Kev is nearly fulltime. But we've got other staff with us who do part-time, while Rose puts in an enormous amount of hours with the pups and helping out with racing.
"So much work goes into it, but gee when you have nights like (Saturday) night – it's sensational."
Geall's dream of winning an elite-level race started in his teenage years.
"Early on when I was a young kid, my dad used to take us to Olympic Park," he said.
"That's how long ago it was. I dabbled in it for a few years when I was only 16.
"I'd go to Olympic Park and was in awe of the Australian Cup champion trainers.
"People like Jim Coleman, and top trainers from New South Wales.
"You're in awe of them. And you wished even as a kid that you would win an Australian Cup.
"It was only a wish, and then it happens. So all those things go through your mind when the race is over.
"A lot of things go through your head and that's one of them."
ARTICLE: Josh Spasaro, Australian Racing Greyhound